Garage Remodeling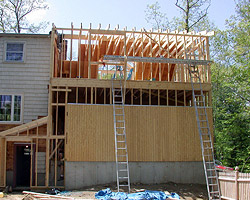 Here at Dennis Adams Contracting, our team of garage remodeling contractors is ready to help you get the most out of your existing real estate, including within your garage. Real estate prices in Westchester and Fairfield County are so high; wasted space is wasted money.
From custom garage organization to garage remodeling, our team of contractors will help you maximize your space. Our team has built garage bump-out additions, added loft space, and have even helped customers create valuable, rentable property. Dennis Adams Contracting is here to help you save money.
We can help analyze your existing garages energy efficiency and install energy star windows and doors, and replace outdated insulation to maximize your savings. Or what about converting that garage into your very own man cave? Dennis Adams's Contracting team can build bars or custom workshops.
Call us today! We can help you design and build your own unique space from customized lighting and storage, to Epoxy flooring.