Renovation Project: Cape to Colonial Conversion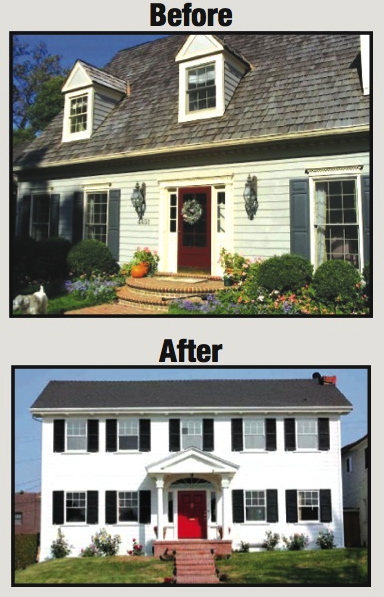 Westchester: lic# WC-10858-H00
Connecticut: lic# HIC-0622029
Putnam: lic# PS3020-A
Yonkers: Lic# 4420
Dennis Adams Contracting is proud to present our Cape to Colonial Conversion! This pre-packaged home conversion bundle delivers a tremendous amount of home for the dollar.
Read the item lines below and call us if you would like to learn more! We have one conversion project in the works each month! Never hesitate to request pictures of a home or project!
BBB, (NRCA) National Roofing Contractors Association & GAF CERTIFIED.
*disclaimer: price does not include blueprints, permits or fees. Price subject to change based on size and shape.
| | | |
| --- | --- | --- |
| ITEM | | COST |
| DEMO | ………………………………………… | $4,800.00 |
| FRAMING | ………………………………………… | $12,000.00 |
| ROOFING & GUTTERS | ………………………………………… | $6,70000 |
| WINDOWS (11) | ………………………………………… | $5,500.00 |
| VINYL SIDING (ENTIRE HOUSE) | ………………………………………… | $18,850.00 |
| BATHROOM (1) | ………………………………………… | $8,800.00 |
| INSULATION (2ND STORY) | ………………………………………… | $3,400.00 |
| ROUGH PLUMBING – (NO FIXTURES) | ………………………………………… | $3,900.00 |
| ELECTRIC – CABLE | ………………………………………… | $3,800.00 |
| STAIRCASE | ………………………………………… | $4,800.00 |
| SHEETROCK – TAPING | ………………………………………… | $7,300.00 |
| MASONRY CHIMNEY EXTENSION | ………………………………………… | $5,400.00 |
| HARDWOOD FLOORING – TILE – CARPETING | ………………………………………… | $6,400.00 |
| TRIMWORK | ………………………………………… | $3,600.00 |
| PAINTING | ………………………………………… | $3,600.00 |
| TOTAL COST | ——————————————— | $97,650.00 |
| | | |
| OPTIONS AVAILABLE | | |
| CENTRAL AIR CONDITIONING | ………………………………………… | $8,900.00 |
| ELECTRICAL UPGRADE | ………………………………………… | $3,000.00 |
| NEW HEATING SYSTEM | ………………………………………… | $4,200.00 |
Contact us today and request pictures of our most recent renovation, addition and home remodeling projects in: Scarsdale New York, Armonk New York, White Plains New York, and Sleepy Hollow New York