Bathroom Remodeling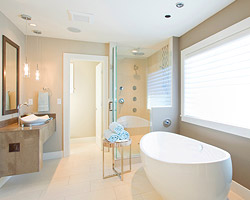 The bathroom is one room everyone uses. Whether your bathroom needs a few simple upgrades, or a complete bathroom remodeling, and modernization, our bathroom experts know the tricks needed to turn your bathroom into your very own private spa.
Here at Dennis Adams Contracting, our remodeling professionals can do it all! From designer storage solutions, to custom cabinets and vanities, all the way down to home saunas, our team is among the best in the area. We can help you select and install the latest in high end whirlpool, hot tubs, custom showers with specialty showerheads, heated tiled floors, bathroom lighting, and energy efficient commodes, bidets, and sink hardware to
save you money and help keep your home green.
Popular projects include: shower replacement, shower door replacement, bathroom flooring, drywall and drywall patching, tile installation, bathroom lighting installation, custom bathroom vanity construction, bathroom countertops, cabinet re-facing, bathroom fixture replacement – and much more!
If you're looking to complete a bathroom-remodeling project in the Westchester, NY or Fairfield, CT area, make Dennis Adams Contracting your bathroom/home-remodeling partner.