Vinyl Siding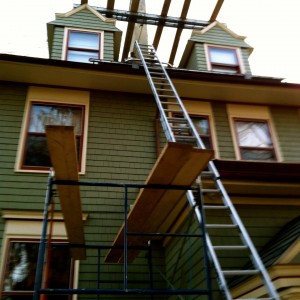 Whether you are remodeling or renovating your Westchester County home, our team of siding installation experts can help!
Our Westchester County siding installation team will partner with you every step of the way.
From pre-concept design to style selection and onto finalizing your home's optimal vinyl trim and finish, our siding installation team will be your partner. We will be there to help with after-care and future maintenance as well.
Give us a call to discuss your options – vinyl siding estimates offered at no cost!
Our siding services include:
Siding Repair

New SidingInstallations

Asphalt

Vinyl siding

Fiber Cement Siding

Shingles

Siding Inspections

Siding Cleaning (Power Washing)

Gutter Cleaning and Installation

Copper Gutters

Leaders

Soffit and Fascia
Vinyl siding has been popular for a long time and for good reason: it is low-maintenance and good looking.
Ask us about the lifetime warranty and guarantee that accompany most of our vinyl siding products. We use only the highest-quality siding products, allowing us to extend product warranties to our customers.
Vinyl is durable and will last for years to come. Vinyl siding can withstand the fiercest Westchester winters and summers. Vinyl siding is perfect for our tough New York climate and your home, whether you have a golf course nearby or a soccer field across the road, you can depend on vinyl to hold up to almost anything that comes its way. In the rare case that your vinyl does dent or become damaged, vinyl is easy to repair piece by piece, saving you money and time down the road.
Vinyl is less energy intensive than aluminum siding and has less air pollution than painting or staining wood and hardboard siding. New vinyl is even recyclable.
Because vinyl is so popular, vinyl siding comes in almost every color and style you can imagine. Whether you're looking for longer lengths to eliminate seams on the side of your home or you're looking to mix in a different texture or aesthetic, there's a type of siding that is sure to fit your style and budget.
Customer satisfaction is our top priority as a family-owned, local Westchester business.
When choosing quality siding, we recommend looking for thick and rigid products, and the Dennis Adams Contracting team can point you in the direction of some of our high-quality favorites. Contact us today to learn more about vinyl siding for your home renovation or remodel!
Still not sure about hiring us?
Our team of experienced professionals are ready and able to ensure that all of our projects are done correctly the first time! Contact us today, you'll be glad you did! We've been in business for over 60 years for a reason!