General Contractor Westchester NY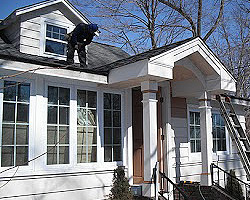 Dennis Adams Contracting est. 1991 provides complete general contracting services to residential and commercial property owners in Westchester County NY —  we are ready to partner with you and execute your next home improvement project! Our team of master carpenters offers complete home remodeling and renovation services. We can help from pre-planning to blue print reading and redrafting.
Popular General Contracting projects include: complete or partial home remodeling, conversions, bump-out additions, room conversions, home additions, framing, bathroom remodeling / kitchen re-design and kitchen remodeling. We also install vinyl siding, energy efficient windows, doors, and roof installation and roof repair, decks, and siding.
We also offer General Contracting maintenance services and plans including, home repairs, replacement doors + windows, power washing, sealing and painting, under decks, patios and porches, interior remodeling, new structures and more. 
Are you looking for handyman type work? We do all types of general contracting work. Look to us for: framing, sheet rock, molding, staining, painting, tile, and carpeting or outdoor masonry work. Did we mention we do custom decks, patios, and fencing? It's your project! Tell us what you have in mind.
No job is too small
No project too large
No idea is out of the ordinary!
General Contractor Westchester NY