Roof Replacement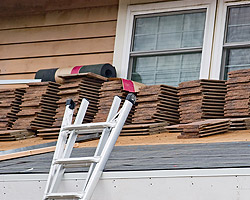 Do you know if your roof needs repair or replacement? Does your roof leak into your attic after a hard rain? Leaky shingles or deteriorating flashing may be to blame. Paint peelings, stains on the interior ceiling, or mold/mildew growth are telling signs of moisture and a warning that a professional
should inspect your roof.
Don Adams Roofing provides free roof inspections. Missing cracked or curled shingles indicate to owners that they're in need of replacing or repairing.
When it gets hot poor ventilation can trap hot air in the attic forcing air conditioner systems to work harder and ring up your bill. Attic ventilation is very important as in both hot and cold weather, water can become trapped and wreak havoc on your rafters and homes roof.
Don Adams Roofing was established in 1960 and has continuously served the greater Westchester county area
ever since – as your Westchester County Roofer of choice!
We offer a lifetime warranty on our roof installations- you can't beat it! If you're looking for a new roof in slate,
metal, copper, or tile, or are looking to have fascia and soffits installed, call us today! We are a certified GAF roofer, no one makes better roofing products!