Roof Repair Dutchess County NY | Roofer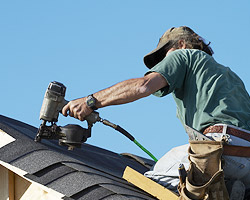 You might be surprised to learn that for every ten roofs we inspect, only four need replacement. The other six just need some solid roof repair
work done.
Roof repair can extend the life of your roof and help you avoid the time and expense of re-roofing or total roof replacement. If you're a residential homeowner or business owner don't hesitate to call us today — your inspection could be done this afternoon!
We specialize in roof repair for both Commercial and residential roofs of all kinds.
Common Commercial and residential Dutchess County Roof Repair Projects Include:
Emergency Leak Repair
Standard Leak Investigation & Repair
Roof Restorations
Common Roof Maintenance Projects Include:
Commercial Roofing Service Agreements / Preventive Maintenance Plans
Debris & Roof Vegetation Removal
Major Storm Preparation & Early Response
Roof assessment & survey
Roof work can be dangerous and should be done by roofing professionals and in Dutchess County my roofing team can't be beat. We have earned a reputation for being honest, hard working, and reputable with most of our work coming to us by way of referral. If you're looking for a roofing team in Dutchess County NY or looking for a roof inspection give us a ring today – no one knows Dutchess County roofs like we do.
I am a second-generation roofer. I started working for my Dad when I was fourteen years old. I've been up on the roofs of Westchester for the better part of my life. My company bears my family name and I take that very seriously. He taught me more about roofing by the time I was twenty then most roofers learn in lifetime. I am the roofing expert and a Westchester roof repair technician.
At Don Adams Roofing & Dennis Adams Contracting we take a compressive approach to both residential and commercials roofs. We guarantee the quality of the materials we use and the work we provide.
If your roof leaks, is missing tiles, or you see interior water stains anywhere in your attic, have found wet insulation, lose flashing, damaged vents and ridge caps, dried out vent or pipe gaskets and leaky gutters don't wait to call us. Roof repair is most effective before things get out of hand.
We'll even check around the foundation for any water damage that might be caused from up above. Sometimes just finding the source of the leak is the hardest part, but we know where to look. We'll give you a detailed evaluation and solid solution plan to get your roof fixed and fast before it can do any more damage.
You know how harsh the Hudson Valley's climate can be. Westchester, Putnam and Fairfield county endure extreme weather year round: rain, sleet, snow, ice, wind, Nor'easter, broiling heat and brutal cold are common in the tri-state area. These extreme weather conditions put our Westchester homes and roofs trough the ringer.
Twenty years ago we did not have the state of the art building and roofing materials we now use. The shelf life of the older roofing materials, gutters and chimney flashings top-out at fifteen years. Often families and business owners try to stretch that timeline in an effort to save money. But believe me, it costs a lot less to repair a roof then replace it.
Got a roofing problem? Call me today and I'll come over, have a look, and we can evaluate your roofing options. From replacement to repair, Don Adams Roofing will educate and help you understand what needs to be done – even if it is nothing at all.
We'll take care of you and get it done fast, safe and right.
Roof Repair Dutchess County NY | Roofer